About a year ago, my publisher released a book I thought I'd never write. For one thing, it was a novella, much shorter than my usual. For another, it turned out to be a romance.
I must admit I've never held romances in high esteem. They seemed too predictable to qualify as "real" literature–I suppose those of you with tastes like mine will nod your heads about now. Some of us like not knowing how things will turn out–we feel characters exhibit more depth when the reader has no clue about their destiny.
Or the author, I might say, because that's how it was for me. When I began writing Kiss Me Once Again, titled after a popular WWII song, I had no idea it would turn into a romance.
But my heroine Glenora knew all along. She tried to prepare me for this turn of events, but her gangly stature and low self-concept tricked me. She always thought, "Who could ever entertain romantic thoughts about me, such a tall girl with an angular face?
She felt this way even though Joe, her high school friend, had pledged his love to her before he left for the war. To her, it seemed an aberration that he had evinced interest in her, and nothing like this would ever occur again.
So she tucked away the word "romance" forever, like the prom dress she wore to the dance. Everything connected with that arena belonged in the past, in effect buried with Joe in the Arizona at the bottom of Pearl Harbor.
Glenora cherished these memories, but took on life's present challenges with practical pluck. Writing faithful letters to her brother Red, especially in the terrible uncertainty after a typhoon struck his ship, became her duty. Though her own cup felt empty, she determined to keep Red's full.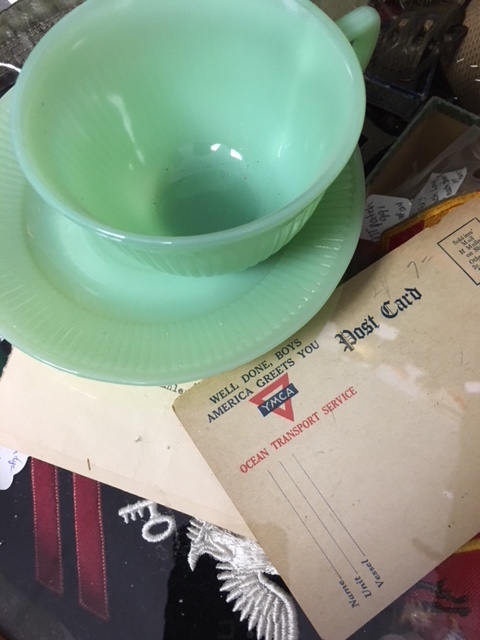 Her father's angst over Red and his growing health concerns, and the family business–a small-town garage in need of a grease monkey in Red's absence–these were tasks Glenora took on with a make-do attitude. Just as she took on the household when her mother died instead of following her dream to Iowa State.
She'd help her dad out at the shop, write faithful letters to Red, and keep her chin up. Yep, that's what she'd do!
For readers who like lots of WWII information but also appreciate a sweet romance, this might just be the book for you to read over the holidays.