My husband spent considerable quality time with our Independence Day author in Iraq and elsewhere…I hope you enjoy what Colonel Piontkowski, whose writing incites both laughter and thought, has to share. Note how he transports us instantly into a situation. (:
RAMBLING ON INDEPENDENCE IN THOUGHT
I didn't realize what was happening until he held the sharp, straight edged razor up and smiled. It was supposed to be a simple haircut, but then I've never been in a Barber Shop in Baghdad, Iraq before. The young Iraqi gentlemen asked me how I wanted the hair.
You who've enjoyed the military know the style; short on the sides, very little on top. The next question seemed innocent enough, "Do you want the sides shaved?"
Before I could think about it, my mouth said yes. As he stood there smiling, razor in hand, my brain kicked in, "This is an Iraqi holding a sharp razor with nothing between it and my American throat but fear, panic and the sudden need to go to the latrine (restroom)."
As he began shaving the sides of my head I frantically scanned around for any Christian symbol, but seeing none I tried to slowly and calmly remember the Act of Contrition. That finished, small talk seemed the thing to do and something that could, potentially, save my life.
I mentioned what a generous tipper I was to barbers (who let me live). He looked confused when I mentioned what a wonderful god Allah is. He seemed somewhat surprised when I told him that if I ever had a son, I would name him Mohammed.
"Yessirree! I'd do anything to help the Iraqi people (especially the ones with razors near my cranium)." After he finished with the cut, shave and obligatory shoulder massage (another story) he smiled and thanked me for being so calm and quiet in the chair. I tipped him well and left before he saw the puddle where I'd been sitting.
Bigotry and prejudice come in many forms; I'm not proud of the implied mistrust of a stranger with a certain nationality and religion in the foregoing story. With Independence Day approaching, it's good to engage in a little prepositional pondering.
We are blessed with the freedom of worship, freedom of speech and freedom of the press, among others. There are also "freedoms from." We should be free from prejudice, bigotry and hatred.
To be free from judging people merely on their racial, religious or national heritage is to live a life of true liberty and peace. (Forgive me, but I still refuse to trust ANYONE with a razor near my throat.)
You'll enjoy reading our guest's biography as much as his article, and can find plenty of similar treasures at his blog: https://frrichardsramblings.com
As you can see…maybe he doesn't shave at all now? (: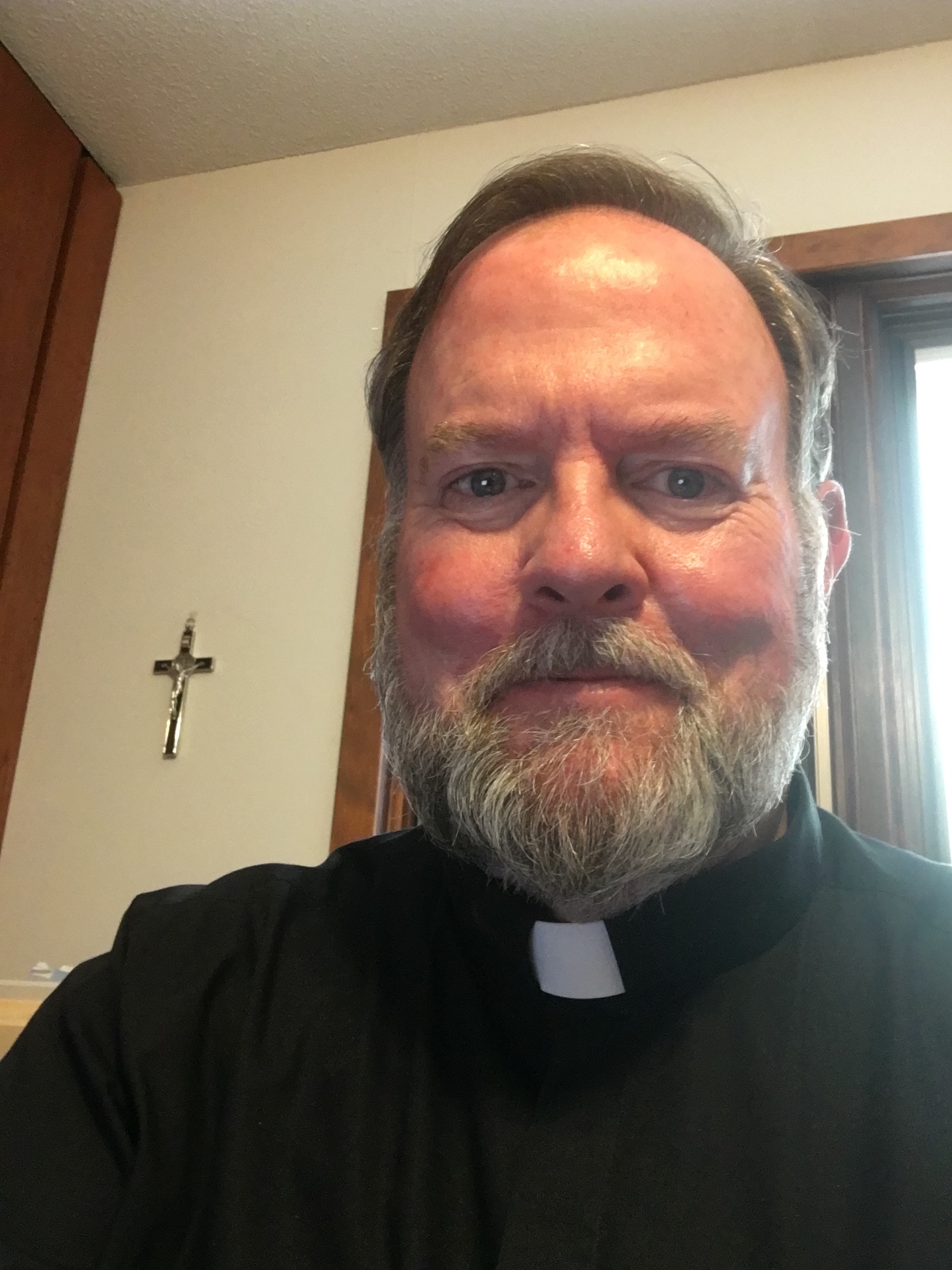 Rev. Richard L. Piontkowski, Jr. and his twin sister Carol were born in Knoxville TN where his father attended the University of Tennessee. He was born three minutes after his sister, which was fortunate as her umbilical cord was around his neck; nothing has changed in 60+ years.
He grew up in North Platte NE where his only experience of public education was kindergarten where he was slapped for talking and listened to a Bible story in class every day. His remaining life was in Catholic schools and universities where he was also slapped and learned more Scripture. He was ordained a Roman Catholic priest for the Diocese of Grand Island NE in 1982 and eventually earned a Master of Divinity, Licentiates (Masters) in Sacred Theology and Canon Law before successfully defending his doctoral dissertation in Canon Law from the Pontifical University of St. Thomas Aquinas in Rome, Italy. After finishing school he was forced to get a real job with real people in a real parish.
Fr. Richard joined the Army Reserve in 1989, served one tour in Iraq and retired as a Colonel after 27 years in the Army Reserve. During his tour in Iraq he began writing for his parish bulletin, St. Mary's Cathedral in Grand Island NE, a weekly column entitled "The Rector's Ramblings." After returning home he continued to write the Ramblings. After switching pastorates and leaving Cathedral many people asked that he continue to write, which is now "Fr. Richard's Ramblings."
He currently lives in Loup City and Ravenna NE where he is the pastor of five Catholic parishes, including Ashton, Hazard and Pleasanton. Fr. Richard lives with his two silky terriers of twelve years, Bert and Ernie. Father had hopes of one of them following in his steps and becoming a priest but neither practiced celibacy or obedience.
Fr. Richard is a voracious reader of anything in print, and enjoys good scotch and bad golf. For him, rural Nebraska is a slice of heaven.