Please welcome Richard L. Mabry, M.D. to our blog today. He's the award winning author of Medical Suspense With Heart, as well as the Prescription For Trouble series (Abingdon), Stress Test, Heart Failure, Critical Condition (Harper Collins), and  Fatal Trauma (Abingdon) To one fortunate commenter this week, he'll give away a copy of Miracle Drug.
"Mabry combines his medical expertise with a story that will keep you on the edge of your seat." – USA Today
THE WRITING CAROUSEL
There's a song in the musical, The Fantasticks, called "Round and Round." In it, the couple sees only the good things that go by, even though at times the view from the carousel is of scenes that are less than pleasant. Why do I bring that up? I mention it because the view of writing from the standpoint of the pre-published writer is much different than the one seen by the author who has at least a couple of books under his/her belt.
Before I got a contract for Code Blue, my first novel, I wrote four novels over a period of four years, garnering forty rejections in the process. And that's nowhere near a record. Although some authors (like Gayle Roper) got a contract for their first novel, others (like T Davis Bunn) collected lots more rejections than I did before a publisher liked his work. Eventually I, and lots of other authors, prevailed. However, shortly thereafter I also learned something interesting: that contract wasn't the end. It was just the beginning of lots more work.
First, I quickly discovered that, although my novel might be good enough to make an acquisition editor happy, it would go through a series of edits and rewrites before it saw print. And all those edits and rewrites involved me. Did it make the work better? Of course it did. Was it time-consuming? Yes—but I learned with each editorial letter and rewrite.
In addition, there was the process of cover design, a process I'm pleased to say I've been involved in for all my novels. That's nice, but also takes a bit of time. In addition, there was the back cover copy and author information. It was necessary writing, but took some work to accomplish.
Then there's marketing. Although the publisher works at marketing the book, there's a good bit for the author to do as well. And I learned very fast that no one wants a book to be read by a wide audience more than the author does. Say what you will about "the good old days," but nowadays it's a necessity for an author to be active in social media and other aspects of keeping his/her name and work before the reading public. Don't forget, of course, that this includes not only their own website and blog, but being available (and even making arrangements) for guest blogs and interviews on the sites of others.
Oh, and while all this is going on, the writer should be at work on their next book. After all, none of us want to be a one-trick pony. And after the first and second come…you guessed it—the third. Authors who quit after the first book aren't unheard of, but they're rare. It's even been discovered that Harper Lee, who supposedly stopped after writing To Kill A Mockingbird, had another book sitting in a trunk or someplace.
Now, imagine trying to keep all those plates spinning. That's where I've been for a while: arranging to get out the news about my forthcoming book, Fatal Trauma, while finishing edits for the next one, Miracle Drug (due out in September), and keeping up interest in my prior novels—the so-called "backlist." Has it required time and effort on my part? Of course it has. Would I trade it for the status of an unpublished writer? Not a chance.
So that's the writing carousel. If you haven't been able to get on yet, don't despair. Work on your craft and don't give up. The view from here is pretty good, even as it goes round and round.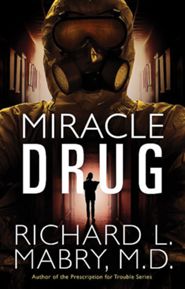 Dr. Richard Mabry is a retired physician, now writing "medical suspense with heart." He is an active member of International Thriller Writers, a past Vice-President of the American Christian Fiction Writers, and a member the Romance Writers of America. His eight previously published novels have garnered critical acclaim and been recognized by programs including the ACFW's Carol Award, the Romantic Times' Inspirational Book of the Year, the Inspirational Readers Choice, and the Selah Award. His novella, Rx Murder, released via Amazon in April, and Abingdon Press published his novel, Fatal Trauma, in May of this year. Miracle Drug is scheduled for release in September.
You can learn more about Richard on his website (http://rmabry.com) and blog (http://rmabry.blogspot.com). He can also be found via his Facebook author page (http://facebook.com/rmabrybooks) and Twitter (http://twitter.com/RichardMabry).