I was about to upload some pictures of buds leafing out, but then this weather map appeared in an e-mail.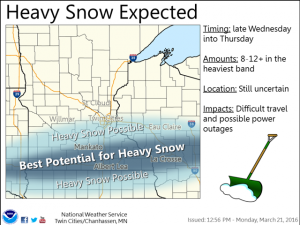 Fortuitous that our county lies right under the P in POSSIBLE, don't you think? Since I've been forging into new areas in my writing, this thought fits: who knows what's possible unless we give an idea the old one-two?
So I'm co-writing a cozy mystery with an author friend. We're having great fun. And in the past two weeks, a WWII novella has taken shape right in the hometown of one of my other heroines. It's a sweet romance–the kind that blossomed so profusely in the wild, crazy days of that era, and will release this summer.
So, storm or no storm, I'm plunging ahead. Hope this finds you doing the same with your passions and dreams. As they say, SEIZE THE DAY!