This week, Christian Writers of the West president Brenda Poulos gives us some NEW YEAR'S ADVICE for April. Welcome, Brenda!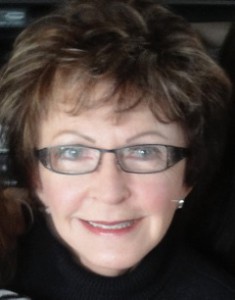 A lot can happen between January and April. A writing plan made at the beginning of the year will simply not take us past spring, into summer and beyond. It's time to revisit, update and, if necessary, rewrite.
In April, we may ask: Is my plan still working? Is it still realistic? What has changed in my life since the plan was written?  What needs to be adjusted?
Here's what I have found. The culprit is time. In January, I failed to factor in time for research, webinars, and writing-related reading or allow for the hours to complete submissions.
Finally, I scheduled so much writing, I failed to leave enough time available for my personal life—family dinners, movies with my husband, walking the dog.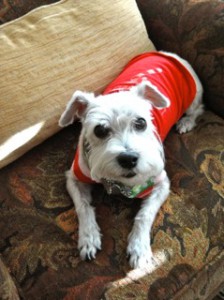 Baxter was glad to hear that walking the dog was now part of the daily plan…
So, perhaps I need to include devotions, writing, exercise, volunteering, family/friends activities, housework, and leisure. I need to allow for the unplanned, too—that surprise visit from Aunt Martha, an unexpected phone call, a refrigerator on the fritz.
This quarter, I'm tackling this time problem, once and for all. I won't answering the door or phone during my scheduled writing time. I'll be answering voicemail, email, and texts once my writing time is completed. Second, I'm building in an hour of flex time—time for the "expected interruptions."
I don't know exactly when they will come, but I do know with a fair degree of certainty that they will. And when they do, I'll be ready.
I'm hoping this new daily plan will keep me from getting frazzled and help me meet my husband at the door with a smile, rather than the wild-eyed look I've been famous for these last few months.
And, oh yes, I'm giving myself a little reward at the end of each day I actually keep to my plan.
Pleasure reading, calling a friend and chatting (yes, a real conversation, not a text), enjoying lemonade on the patio, and watching a favorite television show are on my short list.
Your problem may not be time, but self-motivation or organization. No matter what they are, problems will remain problems, unless we meet them head on.
It all starts with a plan, tweaked often so we can better reach our writing goals, and offering rewards in increments to encourage daily writing.
This year, someone will write words to inspire others for generations to come. Will those words be yours?
Learn more about Brenda and Christian Writers of the West Here:
www.brendapoulos.wordpress.com
www.spiritualsnippets.com
Please feel free to share your thoughts and what has worked for you, and thanks for stopping by. Brenda would love to have you visit her websites at: www.spiritualsnippets.com and www.brendapoulos.wordpress.com She lives in Gilbert, Arizona with husband, John, and aging pets, Baxter and Brinkley. She volunteers at Gilbert Christian School, Hospice of the Valley, and serves in various ministries at Grace Church in Mesa.