A little about Dora, one of those amazing women developed in both LEFT and RIGHT brains!  Please leave a comment to qualify for her giveaway, a copy of her July release, BECK'S PEACE.
After a successful auditing career, Dora left the corporate world to be a stay-at-home mom to her two sons. When her youngest son no longer wanted her hanging out at school with him anymore, Dora started writing Heart Racing, God-Gracing romance. She is a member of Romance Writers of America (RWA) and her local chapter, Carolina Romance Writers.
Dora and her real life hero make their home in North Carolina. When she takes a break from cranking out stories, she enjoys reading, family gatherings, and mountain cabin getaways. She despises traffic, bad coffee, technological meltdowns, and a sad ending to a book. Her books always end with a happily-ever-after!
While our two sons were young, we lived in Florida, where seasons and cooler temperatures were non-existent. So, every winter break we loaded the car with heavy coats, sleds, and Christmas presents, and traveled to some faraway state, hoping to find snow.
After arriving at our destination, we would tuck all the presents under a miniature artificial tree and turn on the sparkling lights. Then, we'd snuggle in front of the fireplace and cheer for our favorite football teams or watch a movie, sipping hot chocolate loaded with whipped cream and sprinkles. In the morning, we'd all scramble to the window to see if it had snowed during the night. Nothing beat that first sight of freshly fallen snow, clean and pure, and shimmering like diamonds.
Now that hubby and I are empty nesters, we travel quite a bit more than we did when the kids were young. We've taken to cruising every year and have enjoyed visiting Italy, France, Croatia, Spain, Norway, Iceland, Denmark, the Netherlands, Ireland, and the United Kingdom. We've tried new foods, explored new cultures, experienced unfamiliar situations, deciphered foreign languages, and encountered wonderful people along the way.
As much as I love traveling, the best part for me is…wait for it, wait for it…
Coming home. That sweet feeling that wells up as I walk in the door. Home, where everything is familiar, where our dog roams the yard without a leash, where I don't need to pull up a map on my cellphone. Home, to a soft mattress and pillows shaped just the way I need them, coffee just the way I like it, and local restaurants with food and words I recognize. Home, to precious family nearby, where we don't have to rely on Internet connections to chat or Google Hangouts to soak in their sweet faces. Home, to the comfort of a routine because that's the way I roll.
Beck Harmon left home and wandered for ten years, seeking peace over his father's death. Our motivation might be different, but he would say the same about his travels. The best part was coming home.
Which states/countries have you visited? What's your favorite aspect of traveling? Least favorite?
Beck's Peace – Release Date: 7/24/15
Burn survivor Savvy McCord doesn't blame her best friend for running away. She can't even look at her scars without wincing. When Beck's disappearing act spans years, she relinquishes dreams of love and marriage. Unable to face Savvy's expectations of happily-ever-after, Beck Harmon deserts her, far away from the rumors that he's just like his father. When the wanderer returns, dreams of forever blossom in Savvy's heart, but she worries he'll leave again. Can Beck convince Savvy that her true beauty comes from her inner strength and faith? Will his idea to help burn victims regain their self-confidence restore Savvy's trust in him? Will love be what the wanderer needs to find peace for his hurting soul?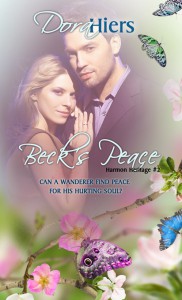 Connect with Dora on Fiction Faith & Foodies, Seriously Write, Twitter, Facebook or Pinterest.