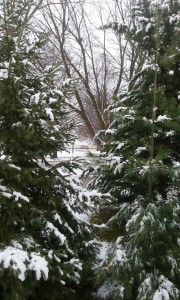 We woke up to the season's first snow this morning, transforming our grey, early-December Iowa into a wonderland. Today I'm sharing author Jane Kirkpatrick's November post, because it holds encouragement for "old" writers. Like a fresh snow covering, we have a great deal to offer the world. May her words bless your Christmas stockings off!
Francis Bacon wrote: "Age appears to be best in four things; old wood best to burn, old wine to drink, old friends to trust, and old authors to read." I present this wisdom as four "old" authors this past month have spoken to me about getting published. They have terrific story ideas, the time and energy to pursue their craft and demonstrated perseverance. What they've shared about finding a publisher is astonishing. At one conference, an editor said publishing older authors for the first time is just not cost effective because they "don't know how to do social media or even what a platform is."
Of course we know what a platform is. It's a pair of shoes. No, really, it's a mission statement, what one is willing to stand behind and for. We older authors have had platforms for years as young people going to war or taking stands against them; about the environment; as parents advocating for kids; as business owners and/or employees working long hours with integrity because we believe in what we're doing and in the communities we're doing it in. We know how to create a writing platform, one we can stand on and for, just as we know how to write a story.
More importantly, we bring life experiences to the stories we tell. We know how to create empathy for a character because we've shown empathy for others in order to live in community. We know how to give voice to those seldom heard because we've been listening for years. And we know how to memorialize, how to write about what matters not only to ourselves but as ways to reach others, most of whom are much younger than we are. Perhaps we can prevent in real life the mistakes that our characters make by telling stories constructed on our platforms.
As for social media…one of my "wise" author friends noted, "We have networks from years of working, contacts made while researching, people excited for us in retirement as we pursue another occupation, that of becoming an author." We can get thousands of friends and "likes" and Twitter followers. She noted too that while many of us aren't savvy about social media, we have resources to hire people to help us with the technology required of this writing world. At the very least we have 15-year-old grandkids or nieces and nephews to offer guidance. And because we read and are a part of this fascinating world, we also undertake new challenges with vigor knowing that even old rats, when given new mazes, grow new brain cells. If an old rat can learn new tricks, I can!
With my latest book This Road We Traveled about (in part) a 66-year-old woman who didn't accept her adult children's plan for her life and struck out on the Oregon Trail with her own wagon, I've become especially sensitive to the passions of age. It was what Tabitha Moffat Brown accomplished after she was 66 years old in 1846 in her adopted state of Oregon that moved the 1987 legislature to name her "The Mother of Oregon." Many of the historical women I write about came "of age" in what we might call their "old age."
The Psalmist wrote "The Lord knows my lot. He makes my boundaries fall on pleasant places." Personally, I think publishers are missing the passion of a great story when they let a border like age define an otherwise very pleasant place. Bring on that old wood, aged wine and trusted friends! And yes, old authors.
Thanks so much, Jane. If you've yet to read any of her wonderful historical fiction, now would be a great time for a taste!