You can tell by the flowers, especially the petunias– and this summer, by one petunia in particular. It's a pink one, gigantic, beautiful.
But summer's at its height, leaning toward the waning side. I pick off probably fifteen faded blossoms a day, but because of the intense afternoon heat, the plant shows signs of wear. It's getting just plain tired.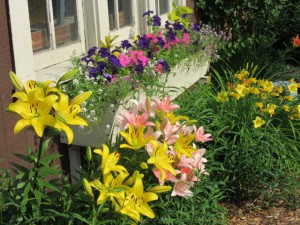 So I water it more, knowing it can't last forever. GATHER YE ROSEBUDS WHILE YE MAY, eh?
Last week, I finished the final edits on one of my World War II novels. Yes, it seemed ready, but the stories never stop. Thankfully, I'm now hard at work on its sequel.
How was it for women of that era when they watered their plants at night, with a loved one in Europe or the Pacific? My uncle was a Ranger in Japan. When my Grandma went out to tend her flowers, did she see him in every blossom? Actually, she had another son in the infantry, too. I can't imagine.
My debut novel will soon have its release date – can't wait! The heroine lost a son in WWII, making her a Gold Star mother. And she loves gardening.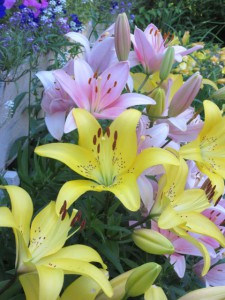 For us, this year's spectacular lily medley was all about glory – wouldn't you say? Now, they've gone by summer's wayside.
But while they were here, they help with our questions … they cheer us through the wallows of life. And they last, in pictures, through winter's storms.
I'd like to take each of you for a walk through our courtyard, a simple square behind the house, bordered by a garage and a fence. But this will have to do.
May the rest of your summer be filled with beauty and great photos!